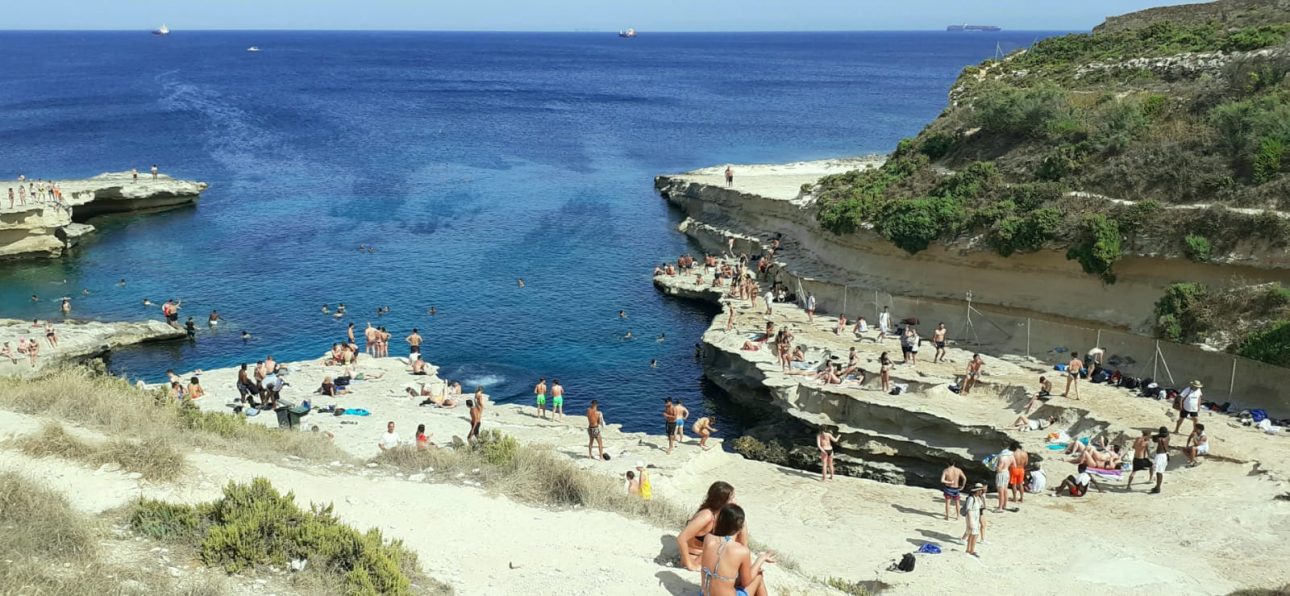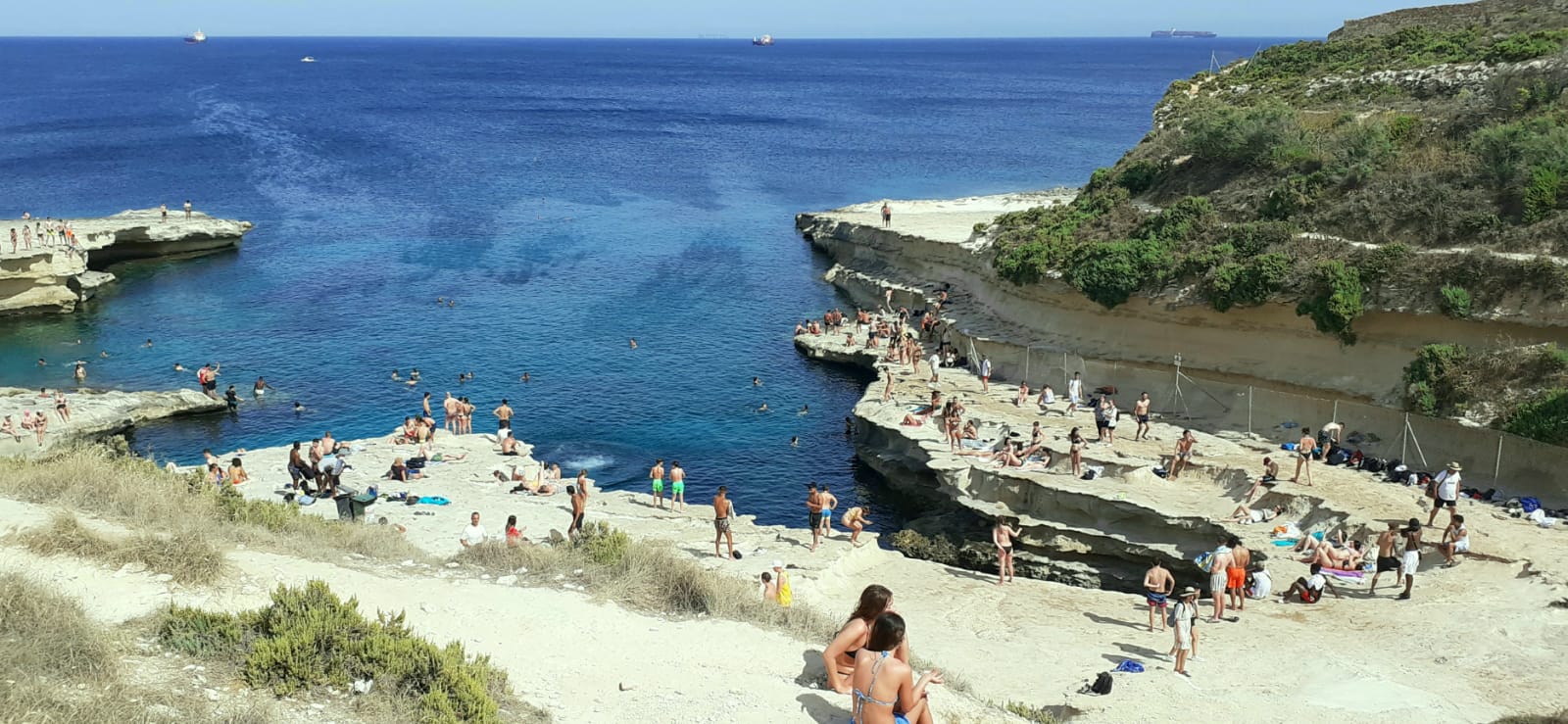 We all know the typical swimming pools you can find in hotels, in your own garden, or in other buildings and places in which they are built. But what about a natural and excessively large pool ending in the ocean?
That is what you can find near Marsaxlokk village on the southeastern coast of Malta as one of its most impressive and beautiful natural swimming pools. For this reason, our leisure team organises trips to St. Peter's Pool Beach regularly.
This beach is not only worth visiting because of its perfect swimming pool shape and the beautiful water, but also because of the perfect height of the rocks and depth of the water. The beach is famous for jumping into the water from the rocks. For those non-thrill-seekers, don't worry, there are also ladders you can use to climb down comfortably into the water. The water is clear azure blue and turquoise. It is a beautiful place to go snorkeling, too. Furthermore, you have a lot of space on the perfect flat rocks for relaxing, sunbathing, and watching people jump into the water.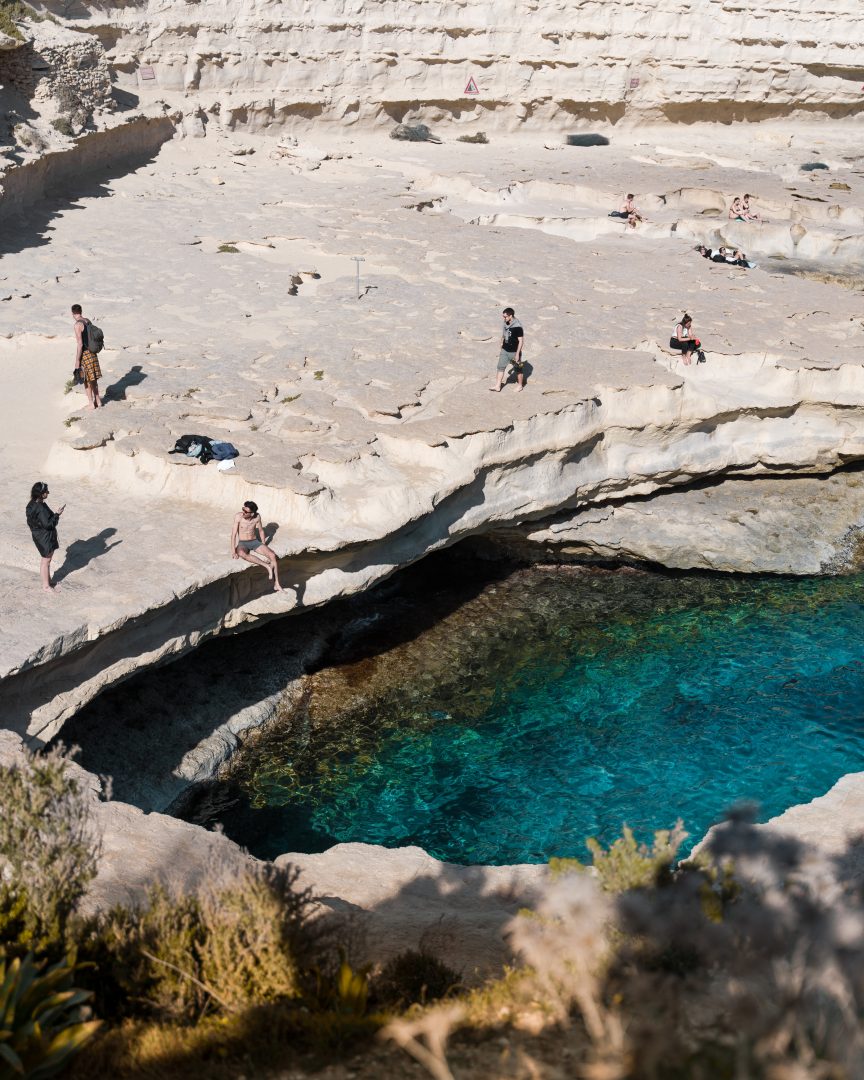 The best time to go there is in the mornings or in the evenings if you want to find St Peters Pool quiet, however, every time of day has its own advantages.
For those who are looking for special spots, St. Peter's Pool is somewhere you must visit in Malta.
The easiest way to reach St. Peters Pool is by car or by the individually organised transport from Maltalingua. Otherwise, it is a bit difficult to visit this beach because the next bus stop is about half an hour away.
For our tour, the students were picked up in the afternoon in St. Julian's near the school with private transport suitable to the number of students who have registered before. The ride to St. Peter's Pool took about half an hour. There were three hours for the group to spend the time freely exploring the place by swimming and relaxing. Every week new students arrive at Maltalingua so this trip was great for new members of the group to get to know each other better. Many other people were there with us so it was fun to watch lots of them jumping from the rocks. At half-past six we arrived back in St. Julian's.
For Maltalingua it is important that the students get impressions of Malta as versatile as possible so that everyone gets entertained and enough variety during their English lessons here. So every day there are two activity options, all planned by Maltalingua, to discover what the Maltese islands have to offer while building new friendships. So, besides learning English it is important for us to enjoy Malta, the nice weather, and build friendships. According to our Motto: Learn English under the sun!