Tag Archives:
award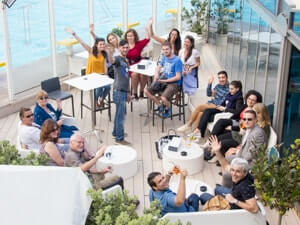 We're having a very busy summer at Maltalingua, and our staff have been doing a great job! We like to thank them for their hard work each month, and choose one teacher and one other staff member to receive our Maltalingua Star Awards.
May 2017 – Maltalingua Star Teacher of the month: The Whole Teaching Team 🙂
The standards of the whole teaching team were so high in May that it was impossible to choose just one winner. Congratulations everyone!
May 2017 – Maltalingua Star of the month: Marialuisa Esposito
During one of the busiest times for the year for our registrars Marialuisa was a stand-out. Her organisational skills, calm temperament and efficiency helped her to do an excellent job of dealing with a very high volume of quotations, inquiries and bookings.
June 2017 – Maltalingua Star Teacher of the month: Toni Cassar-Dowling
Toni was invaluable in June. At a very busy time, her hard work, experience and administrative skills made her a star performer. Our DOS knows she can trust Toni to look after the day-to-day running of the academic department whenever required.
June 2017 – Maltalingua Star of the month: Julian Micallef
In June Julian did an excellent job of making sure that our new apartment renovations and upgrades were completed on-time and to a very high standard. This was a complicated task that required a lot of planning and people management skills. The new air-conditioned apartments are looking fantastic and the students love staying in them.
July 2017 – Maltalingua Star Teacher of the month: Louisa Testa
Louisa is adored by our junior students. In July, the excellent feedback she received from our young students propelled her to the Star Teacher of the Month award. Her positivity and helpfulness were also big factors in her receiving the award. In the words of our DOS "She's a real team player".
July 2017 – Maltalingua Star of the month: Indira Gimeno
Indira's duties changed a lot in July. She received lots of training and did exceptionally well. She learned quickly and adapted to her new role with great positivity and professionalism.
Do you want to let us know who your favourite member of the Maltalingau team is? Then leave a comment below.
Leave your Comments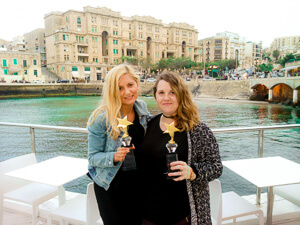 At Maltalingua we're lucky to have such a great team. From the office staff to the teachers, from the registrars to the activity coordinators and from the principle to the group leaders we've got smart, capable and committed staff right through the school.
To show appreciation for all the hard work done by the team, each month we're going to have 2 special star awards:
Maltalingua Star Teacher of the Month
Maltalingua Star of the Month
In April, we had many strong contenders for each award, but we had to choose only one for each:
Maltalingua Star Teacher of the month: Harriett Bussell-Nguyen
Well done Harri! She received some excellent feedback from students recently:
I would like to praise Harriet for being really the best teacher I could have imagined to have. She had really lively, well prepared classes, and I really appreciate we had her as a teacher.
– Ilona Cerna
I liked the familiar and friendly athmosphere at maltalingua. Teaching lessons with Harriette were quite intensive and funny.
– Anonymous
I Love Harri & Toni 😉 
– Anonymous
She also currently doing a great job of studying for her DELTA (an extremely high level of English teaching qualification).
Maltalingua Star of the Month: Marta Szmidt
Well done Marta! She's made Maltalingua one of the most popular School's on the Island for Polish students. Her lively personality and dedication to great customer service have been hugely appreciated by all the staff here and all of her clients.
Have you got a favourite staff member at Maltalingua? Leave a comment below to let us know whom!
Leave your Comments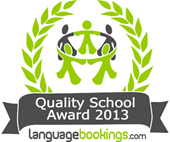 We are delighted to announce that Maltalingua has been awarded the LanguageBookings Quality School Award 2013.
The award is recognition of the emphasis we place on quality English teaching combined with the pleasant atmosphere of our school and the care and attention we pay to our students as well as our efforts to make learning English affordable. The Quality School Award is given to language schools with high appeal for international students with an unbroken record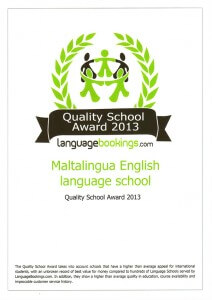 of best value for money and competition was fierce – Maltalingua earned this recognition in comparison to hundreds of schools. The award confirms that Maltalingua has achieved high quality standards in its range of language courses.
Whilst we are thrilled to make this announcement, this recognition does not mean that we will get complacent – here at Maltalingua we constantly strive to make our language courses the best, our students the happiest and our prices extremely competitive and winning this award does not change that.
So what other reasons do you need to learn English with us in Malta? Our award winning language school is waiting to welcome you!!
Leave your Comments