Share
Winter, the underestimated season….
Many choose to study English in Malta during the Winter months (November-February), not only to escape the plummeting temperatures across the continent but also to take advantage of all that Malta has to offer during the Winter season. With cooler temperatures than the height of summer and less tourists, some would say this is the best time to visit Malta!
Being in the south of the Mediterranean, the day temperatures stay at a relatively steady 14-18 degrees, rarely dropping below 10 degrees, with a sea temperature of 16-17 degrees. Even though it may seem a little cool for swimming, (though not for the more adventurous types!) there is still enough to keep you occupied.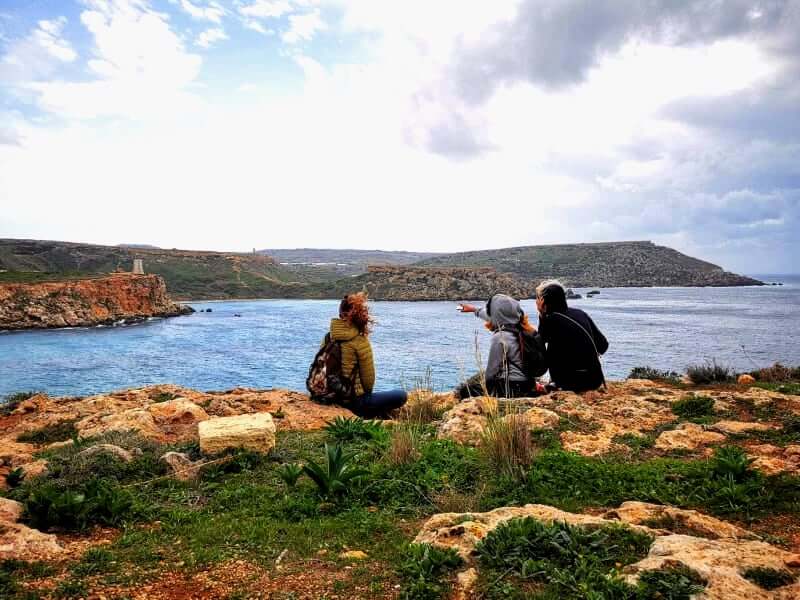 With the help of Maltalingua teachers and staff we have some recommendations!
Explore the narrow streets and enjoy the peace and quiet in Mdina, the "Silent City" on a Sunday afternoon, and stop off at the famous Fontanella Tea Garden for a slice of mouth-watering chocolate cake and take in the incredible views from this hilltop location.
Malta has plenty of options when it comes to walks or hikes – either a leisurely stroll along the Sliema promenade or put on those hiking boots and hit the coast or countryside for those wanting to really explore the island. We recommend the Victoria Lines walk which is approx 12 km that crosses the width of the island from Bingemma to Madliena. Expect stunning scenery so be sure to bring a camera!
For the theatre lovers, Manoel Theatre in Valletta is one of the oldest theatres in Europe, with the first performance dating back to 1732. Why not watch a show (which is a great way to improve your English!) or take a tour of this magnificent historical building.
Step back in time and visit Gozo, Malta's sister island and the smaller one of the two, only a short ferry ride away. A must see, would be The Citadella, in Victoria the capital of Gozo, which has been inhabited since the Bronze age!
For the art lovers, don't miss the stunning Caravaggio paintings found in St John's Cathedral, Valletta. Learn about the life of the influential Italian painter and his time in Malta.
If being surrounded by sea is too tempting for you then you could always try Windsurfing. Being a small island, it is often windy along the coast and because there are no swimming lines out in the winter/spring the bays become a surfer's paradise! Of course, it always depends on the wind direction.

If you want to gorge on history then you will be able to do just that in Malta, with 3 UNESCO World Heritage sites. Neolithic and Megathilic temples, Catacombs and more, you don't have to go far before you're surrounded by history.
Cosy comfort food sums up winter for all of us, and Malta is no different. Head to the village of Mgarr, to try a local rabbit stew, filled with vegetables and served with fresh crusty HOBZ (trust us the bread is divine!), and wash that down with a glass of local Maltese wine or beer.
For the daredevils, why not try your hand at Rock Climbing or Abseiling? There are plenty of locations around the island and organised groups, so for the more adventurous types this will suit you perfectly!
For the night owls, there are plenty of wine bars and restaurants offering various cuisines to suit all tastes. You can dance the night away in St Julian's or spend long evenings talking amongst friends in one of Valletta's many little wine bars.
If you're a boat lover, then we recommend that you take a ferry from Valletta Harbour to Birgu, one of the 3 cities. Take a walk around the marina and be in awe of the super yachts and majestic sailing boats fit for kings and queens! Follow that up with a visit to the Maritime museum and discover Malta's rich maritime history.
And finally…. learn English in Malta! Of course, this is one of our top tips. With English being the most commonly spoken language, it couldn't be easier to learn or improve your English, and everything it just the little bit nicer than the rainy north!
So, what are you waiting for! Start planning your trip today and see for yourself, just how much Malta has to offer.
Leave your Comments
Share
Winter fun and Winter sun in Malta!

,