A month and a half have already passed since the beginning of 2015 and February in Malta offers a special event… CARNIVAL. Carnival is the time when everyone joins in the fun, dresses up in costumes, joins parades, see the beautiful mechanical floats and dance to the music played in the streets. Carnival in Malta is a 5-day celebration that has been celebrated for centuries, actually since the time of the Knights of the Order of St John.
Traditionally, Carnival is celebrated in the capital city of Malta, Valletta. Children and adult enthusiasts are dressed up in beautiful costumes and spend their time in Valletta & Floriana watching huge floats go by, unless they take part in a dance competition. The Maltese Carnival is said to resemble the Brazilian, on a much smaller scale of course. An explosion of colours fills the streets, masks hide people's faces and music fills the air…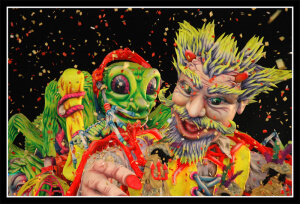 Our sister island Gozo, also hosts its own mini-traditional carnival in the capital, but it recently started organising a carnival with a twist in the village of Nadur. Whilst in Valletta carnival is more appropriate to the whole family, the dark Nadur carnival is more suitable for the older and more mature who can bear a crazy weekend away from home. 20 to 30 year-olds set off to Gozo for the weekend for parties and pranks. Daring families might also be parading through the madness keeping out a sharp eye for the best and most grotesque costume of the night.
This February, Malta is the place to be. Traditionally a celebration that marks the beginning of Lent, this year Carnival will commence on Friday the 13th till Tuesday the 17th of February.
All in all I would say that February in Malta is a month that is definitely looked forward to by most people.