Tag Archives:
boat party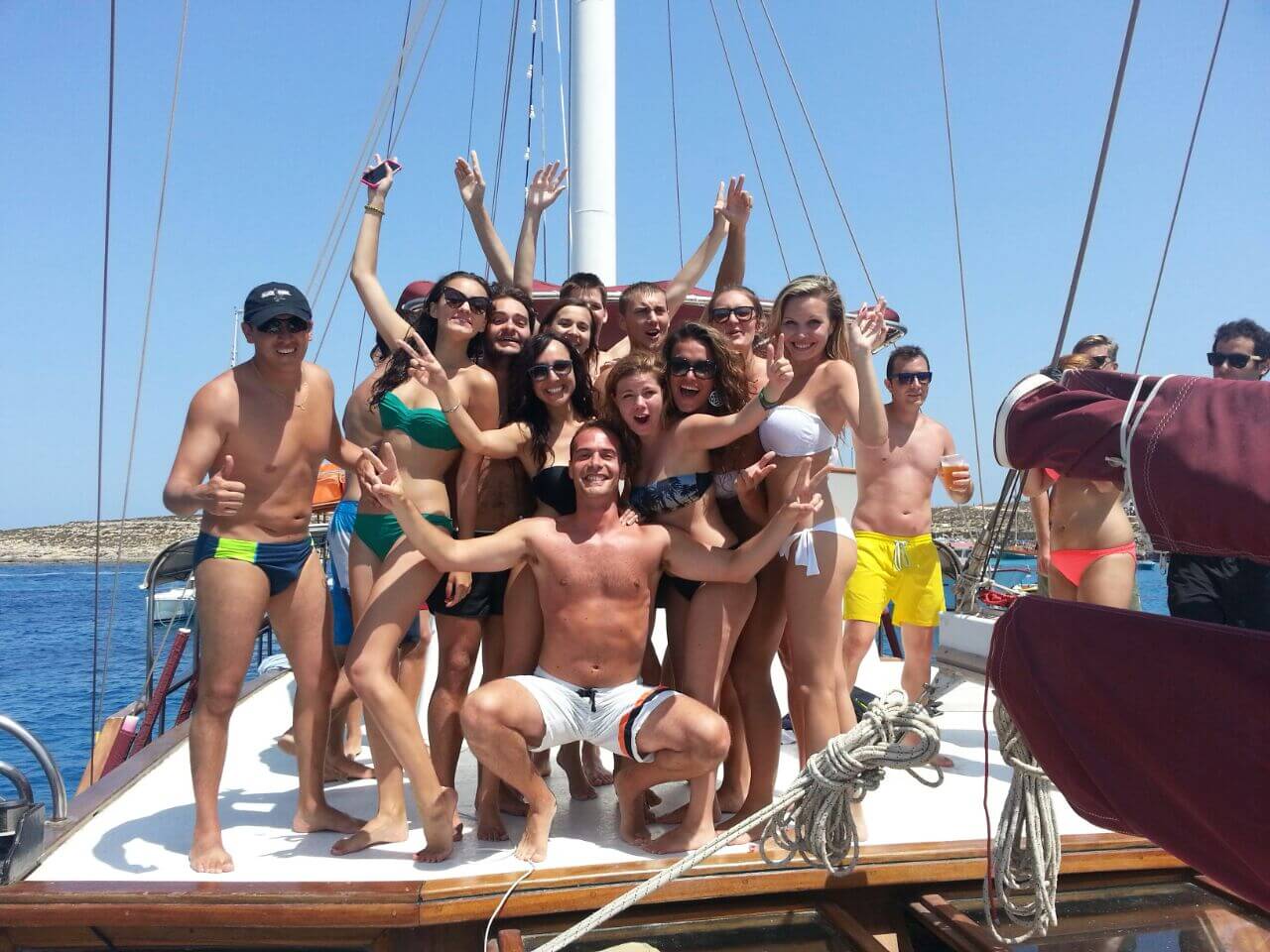 The Santa Maria fell on Friday 15th August and as such Maltalingua School of English was closed. Instead we decided to charter a private yacht for teachers and students and spend the day troung the Maltese Islands. It turned out to be the best Maltalingua excusions ever!
At 09:45 we met at our usual meeting point and by the time everyone had arrived, we left by 10:15. The coach departed St.Julians and made our way to Mellieha, in the north of Malta where our Turkish gullet awaited us.
Unfortunately our trip was delayed shortly after we left, funnily because one of the ropes got tangled round one of the propellers. No problem, this only meant more time on the boat and that we would return later in the afternoon, win win for us. 😀
Once we departed, the music was turned up and the trip had begun. Maltalingua staff and students already settled down, started wearing their sun creams, and buying their first drinks, whilst others just chilled on the deck. Our first stop would be Comino, but because of the size of our boat and the vast amount of boats out that day, we parked just outside the Blue Lagoon. The sea was simply beautiful, too nice, too tempting not to jump in.
We had students buying burgers and beers, others jumping from the boat, some snorkelling and others chilling on our water noodles. It was just fantastic. At one point a 600 horsepower speed boat came by and offered to take some of the students for a blast round the caves. Never have I seen students have so much fun going so fast, it was epic.
Once all back on the boat, we cranked up the music and now the party was in full swing. Students where dancing everywhere and nothing could have ruined our day. I am confident enough to say that I am sure everyone on board will never forget that day. Sun shining, crystal clear water, super good music and great students.
Shortly just after 15:00 hours, we changed our venue to a less crowded bay just round the corner for more swimming and dancing. It is such a good feeling when after long hours of planning everyone said they had suhc a good time!
Just after 16:30 we made our way back, still dancing and jumping around, till we literally arrived back at the dock. Once back on the coach everybody just knocked out, all except for one if I'm honest (Luca!) All in all, I can't think of any other way how this day could have been any better and I'm sure everyone on board would agree with me.
Leave your Comments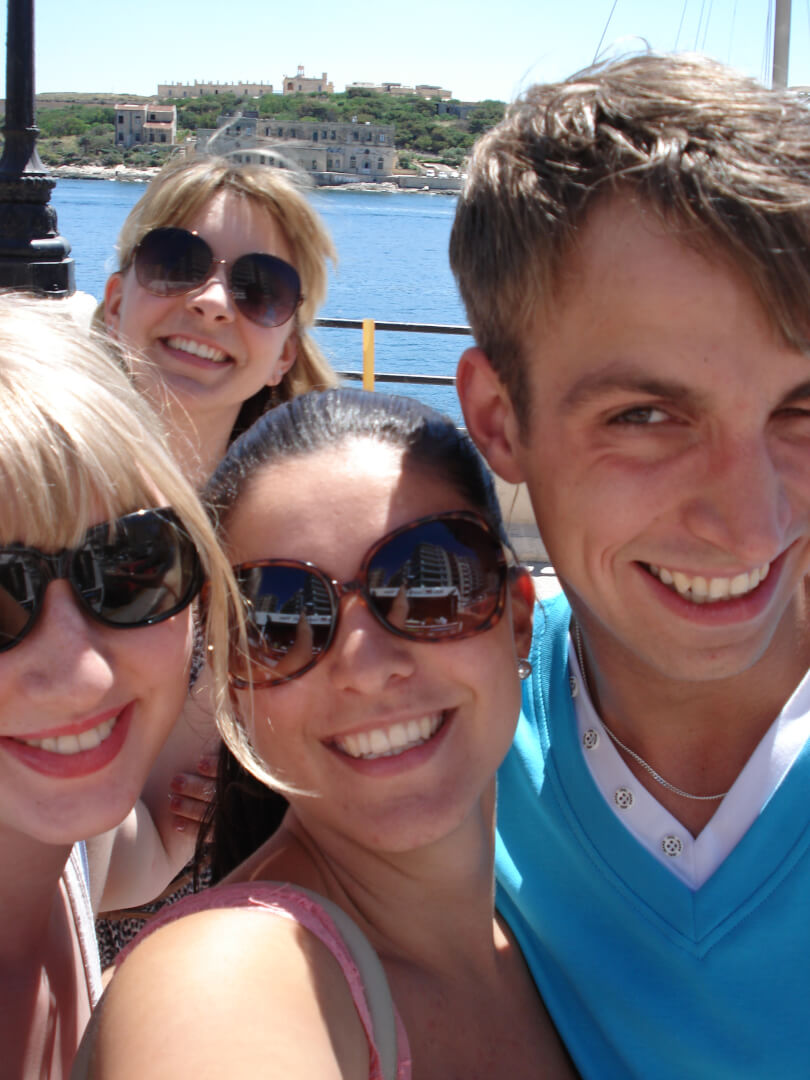 Memorable
After arriving in Malta at the start of March 2012, Malta has given memories that shall be cherished for many years to come. Not only was it about moving from London to a new country, it was about being part of a team to start a brand new project and open the latest English Language School, called Maltalingua.
In the space of a few weeks, we managed to complete all of the finer details which had been in preparation since January. The school was ready, we had the desks and chairs, the books had been delivered and our teachers had been recruited, and we were eagerly awaiting our first arrivals.
Atmosphere
On 2 April 2012 we warmly welcomed our first students through the door. Now the school had come alive, and since then more than 500 students from more than 15 different countries have studied at Maltalingua. Some have chosen General English, other have preferred Business English and those looking to study at university abroad have taken our IELTS Preparation course. However, the one thing that they have all shared is the vibrant community.
Students are invited to taste Maltese food at the weekly welcome party on the rooftop by our private pool, and take part in the social activities programme, including sports, culture and evening activities, all in the company of our teachers. Perhaps some of the most memorable have been the fireworks in Valletta and the melodic sounds of the karaoke night in St Julians with over 50 students and teachers!
Location
Maltalingua is situated in St Julians, which is arguably the most popular destination for English Language students in the Maltese Islands. With over 300 days of sunshine and approximately 70,000 English language students arriving in Malta every year, it has been a pleasure to experience the Maltese atmosphere from such a great location.
Not only that, the school is based in a traditional and charming Maltese building with character and personality. The building has been tastefully renovated to offer modern classrooms, and as the school has grown, the classrooms and the facilities have improved too, including the addition of a self-study room and a library.
Teaching
At Maltalingua we have developed a detailed teaching programme with the latest materials. However, the credit for our students' classroom experience must also be given to our staff. We are fortunate to have a great team of qualified teachers, who care about the students and provide the opportunity for them to develop and practise their language skills in a welcoming environment. They have received a lot of good feedback and some are still in touch with previous students, and the memory lives on.
And next…
After an amazing first year, we have welcomed 2013 with open arms, with new goals, new ambitions and the same enthusiasm. Perhaps some of the most exciting projects are the addition of two more classrooms to our school in St Julians and the introduction of the brand new junior programme (aged 12-17) which is due to start in March.
We would like to express our gratitude to previous students for choosing Maltalingua and look forward to welcoming them and new students in the future.
Michael Brewster
Director of Studies
Leave your Comments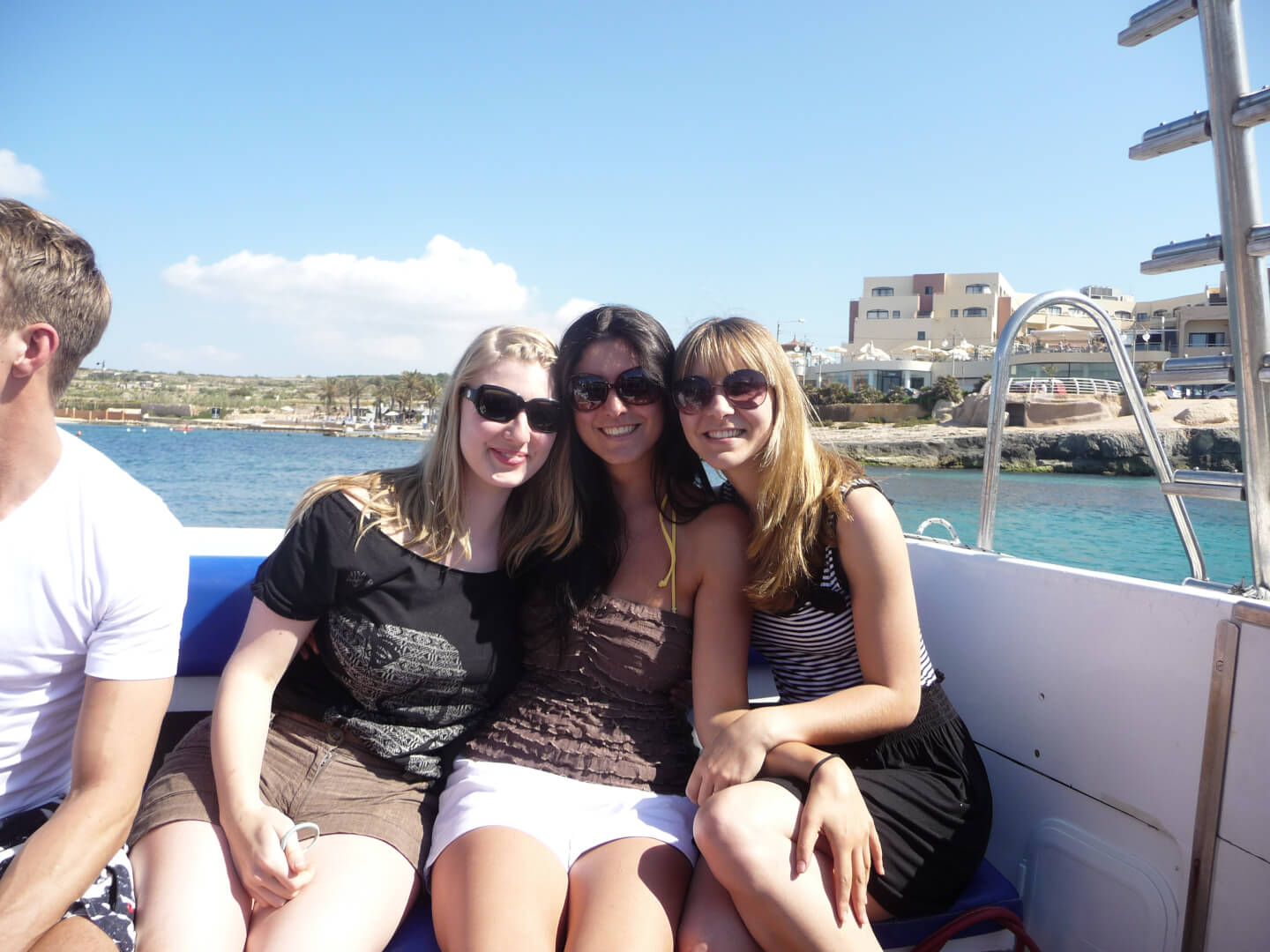 Come September, many of us were already unhappy that summer was almost over. For most of us, it was a hot and busy season, but also fun. During the hot summer days, the Maltese sun shone for more than 12 hours every day but the sea was as refreshing as ever. Sadly, it was time to kiss this beautiful season goodbye.
September is a very unpredictable month, as far as weather is concerned. Usually, at this time of the year, we expect the first sign of autumn with a rainstorm. However, most days are still very hot. In contrast to summer, the evenings are cool.
To everyone's surprise, a few days before, Malta was hit by a freak storm. No wonder everyone thought that summer was over, but definitely that was not the case. When the weather was back to normal again, we at Maltalingua took the opportunity to organise an end of summer boat party.
We booked the boat, the food, the drinks and the DJ came with the package. I met a group of students at the Sliema Ferries and together with Maltalingua's management team Michael, Susanne and Mark, we boarded the beautiful catamaran and waited excitedly for this boat to sail off into the dark night. We were joined by our very own cameraman, Nick, ready to capture each moment on film.
The Captain announced it was time to set off, so he started the engines, pulled up the anchors and away we went to celebrate the end of summer on a beautiful September evening. The corks were already popping out of the wine bottles when the DJ pumped up the volume. Everybody started getting into it – the atmosphere was great! People were laughing, dancing and making new friends whilst sipping wine and tasting good food. The boat started sailing along Malta's exquisite coastline, visiting harbours and creeks.
The Captain made sure to steer towards Valletta and the Three Cities. We all agreed the view was exceptional! Many of us were spellbound with the magnificence of Malta's Grand Harbour. I even heard somebody say that it was the most beautiful scene they had ever witnessed in their lives. The fireworks lighting up the sky were definitely an unexpected bonus.
Four hours into our trip, the Captain decided to make a halt. It was a little chilly; however it didn't hinder any of the students from diving in the dark blue Mediterranean Sea. The sea was so inviting. They all said the sea was warm but they couldn't stop shivering when they got out of the water. The air was cooler.
The brave swimmers wrapped themselves up in towels and got back into their clothes as the ship took us back to the Ferries. Everybody was in a great mood and it was obvious that this event was a success. Our goal was reached: we ended summer with a bang.
Written by Katrin Risiott
Leave your Comments