Not only are we celebrating 10 years of Maltalingua, welcoming students back through our doors from the 1st of June and declaring that Malta is one of the safest countries in Europe, we now have even more exciting news!
Our lucky students now have the opportunity to claim up to €300 in vouchers upon booking a language course with Maltalingua. So, if you ever needed a better reason why coming to Malta this year is the right choice, this is it! Now is the time to take advantage of this fantastic offer.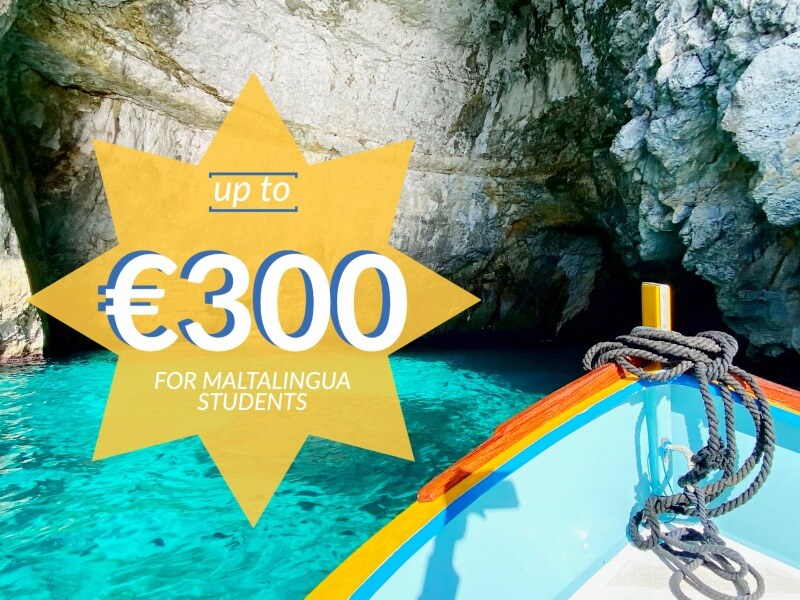 How it works:
English Language students are being rewarded when coming to Malta for a minimum of 15 nights to a maximum stay of 30 nights, with a voucher for the sum of €10 per day redeemable at participating restaurants and shops in Malta and Gozo.
All you need to do is book your course with us and we will take care of the rest and on your arrival you will receive the vouchers for you to spend as you wish.
The vouchers are valid from the 1st of June until December 2021.
Latest Information:
From the 1st of June Malta is officially open to tourists therefore the easing of covid-19 restrictions continues across the Maltese Islands. Restaurants will be open up until midnight, all non-essential shops are open, travel to Comino and Gozo is permitted and Museums and Theatres are open. It is also not a requirement to wear a mask at the beach or by the pool so you wont need to worry about embarrassing tan lines!