Where do you start?
When embarking on a new life in an English-speaking environment, be it in your own country or abroad, you will almost certainly be asked to provide a CV at some point. In this article we are going to look at how to write an effective one but, what exactly is a CV?
It is important to remember that we are not writing a complete biography, but rather a concise summary of the most important and relevant points, with the average length of a CV in the UK not exceeding three pages.
What to include in your CV:
Personal Information: This should come at the beginning and must include your full name and contact details such as your email, phone number and location. If you have a LinkedIn profile or personal webpage these can be incorporated here.

Personal Description: It is essential to start your CV with a brief profile highlighting your attributes, experience and aspirations. The use of positive language, especially adjectives is highly advantageous here and it should not exceed two or three sentences.

Professional Experience: Given that the main objective of a CV is to find a new job, it is essential that you include a list of any relevant experience you have had, be it as an employee, freelancer or even an intern or apprentice. These should be listed with your most recent experience coming first and each one must include the title of the position held, dates of employment and a short description of the main functions carried out and any personal achievements.

Education: In addition to your professional experience, you are also expected to provide your educational history, once again beginning with your most recent qualification and working back to your secondary education. Each entry should include the name of the institute, dates attended, the title of the qualification awarded and the grade achieved.

Languages: Essential to any CV these days are any additional languages spoken and the level of proficiency in each of these. Including official certification of these is also considered a big advantage by any future employer.

Additional Training and Activities: This section is an optional, but beneficial, one which provides a space to include any further academic or professional achievements or qualifications that are relevant to the position you are applying for.

IT Skills: With knowledge of technology becoming increasingly important, another additional extra would be the inclusion of your competence level in any technological programmes.

Interests: A final optional section would be a brief description of your personal interests, if applicable to the soft skills set out in the job description and relevant to the job for which you are applying.

References: Finally, your CV is expected to include two to three people who will serve as professional or academic references, testifying your ability and qualities. For each one, you should provide their full name, email address and contact number.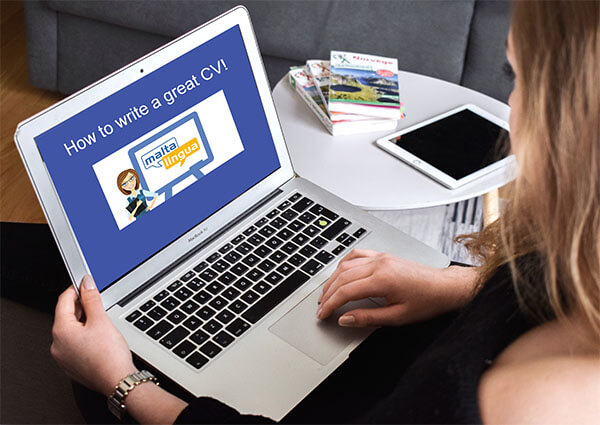 Writing your CV:
Use a template: There are plenty of templates online that can help you create the perfect CV. Search for one that is relevant to your field and that best emphasises the areas that you want to focus on. For example, if your strength is languages choose one that places your linguistic abilities first, or if you are a designer pick one that has a more creative look.

Use language effectively: Assertive, active and positive language will make your CV stand out from the crowd. Use a range of dynamic adjectives to showcase your abilities and forceful verbs to show that you took initiative in your actions.

Don't overcomplicate it: Despite the use of more vibrant language, make sure your CV has a simple format and is easy to understand and follow. Organise your writing with clear titles for each section and bullet points for each ability or task.

Use a clear and professional font: When scrolling through the different font options there are many aesthetically pleasing and entertaining ones to choose from. However, your CV is not the place to experiment with new, elaborate characters. You should opt for a professional font that is easy to read. Common options are Ariel, Calibri and Tahoma.

Personalise it: Do not send out one generic CV for each position you apply for. Take the time and make the effort to modify your CV for each job, making it as personal and relevant as possible for that particular position. Reading the job description carefully will help you to do this.

Check for errors: Double and even triple check your work for grammatical or spelling mistakes as these will show a lack of care in your work and reflect badly on you. If possible, ask a native speaker to read through it and check it with you.

Make regular updates: Always work on enhancing and expanding your abilities, making sure that you add any new work positions, experiences and skills to your CV.
We hope that these tips have been helpful to you and wish you the best of luck in your job hunting!
If you are looking to improve your English for business purposes to allow you to communicate better in an English speaking work environment or improve your chances of employment in English speaking companies then why not enrol in our Business English Language course. Work with highly trained professionals who specialise in business English to ensure that you get the best possible experience with us!