Whether you're on a budget or simply looking for a good value way to spend an afternoon, here are some of Malta's highlights which can be explored for under €10.
Village Festa (Free admission)
Every village celebrate their patron saint day with a party and this provides a unique opportunity for you to mingle with the locals, practise your English and experience first-hand some local Maltese culture and tradition. And no Maltese party would be complete without local music, food and, of course, fireworks!
Azure Window (Free admission)
The Azure Window is one of Malta's natural beauty spots and is a spectacular example of nature's power and splendour, the sea having eroded the rock into a stunning arch shape.
National Museum of Fine Arts (€5 admission)
In an area of Valletta known for its wine bars and café culture, the Museum of Fine Arts is situated in a building dating back to the 16th century and showcases some of the most diverse paintings spanning eras from medieval to contemporary.
Museum of Archaeology (€8 admission)
Situated in another of the island's many historical buildings, the Museum of Archaeology showcases finds from Gozo's history and provides a fascinating insight into the island's archaeological past.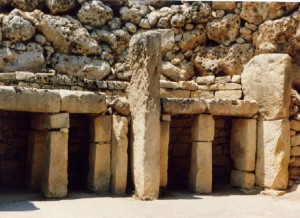 Ggantija Temples (€8 admission)
Dating back to 3,500 BC, the spectacular Ggantija Temples ('place of giants') is the oldest, and best preserved, free-standing structure in the world.
Open Air Markets (Free admission)
Almost every town in Malta has a market; an opportunity for locals to catch up with each other and for visitors to buy some of the island's local produce and souvenirs to take home. Why not strike up a conversation with some of the locals – an ideal way to practise your English skills!