Have you ever wondered why there are always some teachers who seem to be 'better' than others? Everybody remembers having someone very motivating, patient, dedicated and passionate teaching them at some point in time.
Luckily, Maltalingua has lots of teachers with characteristics like that. Jeremy Glass was awarded with the Inspiring Teacher Award at the 8th ELT MALTA Conference. We used this as a chance to find out what qualities he thinks an excellent teacher needs to have. Furthermore, we wanted to know what he loves about Malta, working in the team of Maltalingua and the reasons why he thinks Malta is the perfect place to learn English.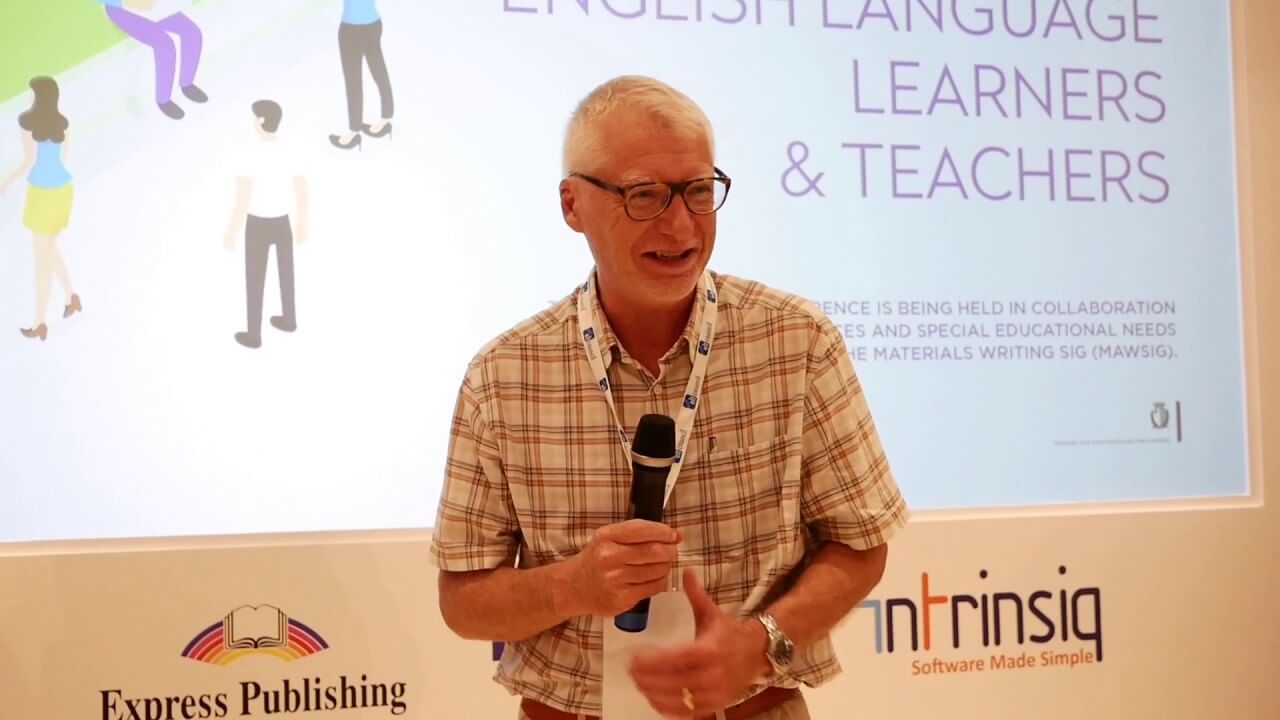 But first let us get to know how Jeremy's career started. His father was a teacher in a Secondary school and he was the only child out of five that followed in his footsteps. He started working in a secondary school as well for seven years where he got his "baptism of fire".

His first encounter with teaching English as a second or foreign language was in Libya!
Where Jeremy taught oil students in ESP (English for specific purposes) in the mornings while he did distance learning and Masters in Education. After a short stint in Malta he moved to Saudi Arabia. Starting as a teacher he climbed the ladder and finally became the Director of Studies of a language school for students preparing to become pilots or aircraft engineers.

At the age of 60 he retired and went back to Scotland. It was his wife that brought him back into the classroom asking him: "Jeremy why don't you take up teaching once again? Better than cycling around villages and joining tennis and golf clubs you'll be able to do what you've done all your life and maybe derive some more enjoyment from it."
He went back to Malta and when wandering around he saw a Maltalingua placard, spontaneously spoke to the Director of Studies who then asked him: "Could you start tomorrow?" Of course he couldn't, but that's how his journey at Maltalingua began.
What's the difference between a good teacher and an excellent one?
To be brief, in my opinion a good teacher teaches, but an excellent one listens first. Remember it's a two-way process. You may teach but are your students learning? The only way is to listen to the feedback you get from your students so that you can improve and the teaching doesn't become just repetitive.
Of course, you improved throughout all the years of experience. What advice would you like to give to your younger self?
Don't be intimidated by the job. There is nothing which is too difficult to teach. Go in with your plan, know what you are going to do in the lesson and just teach it in a sensible way. Very often teaching is a matter of common sense. You don't need to be an Einstein or Leonardo Da Vinci to teach a good lesson, it's just a matter of using your brain and keeping your eyes and ears open. You can't be a good teacher without being a good learner as well. Who do you learn from? You learn from your students and improve every day.
Is there still something you find difficult?
What I find most difficult isn't teaching because I actually enjoy it. What I find it difficult is stopping. Although teaching is quite a demanding and challenging job at the end of the day it still gives me so much satisfaction and joy. Unfortunately, there will come a day when it will be too much for me and I will sadly have to say enough is enough. So that's what I will find difficult here.
Already thinking about the end of your career it must be a great honour to now receive such a meaningful award. Why do you think this happened and what made others think you deserved it?
That's a good question I asked myself that question from the very first time I heard my name mentioned at the meeting. I'm not quite sure what I do better than the other 29 nominees from the other schools on the island. I don't consider myself to be special in any particular way or any different from any of my other colleagues. So, it was a great honour to receive this award. I'm very grateful for it and also very grateful for putting Maltalingua on the map of Malta which is also very satisfying for me because it raises the profile of the school which I love.
In your acceptance speech you said that whatever you do at school is parts of a team. What do you like about the work in this specific team at Maltalingua?
Oh, the keyword is team. Nothing that any teacher can do can be done alone in a vacuum. We are very happy having a very competent director of studies -Michael – who has been here for some time now and has made a big difference to the running of the school. What I can say is that the team works for each other. Each member of the team is more than willing to stand in and to support the other member. Something else what you can't take for granted at all is that very rarely you hear any grumbling or complaints. Most of the comments are: let's get the job done, let's be positive, let's do it, we can do it together and it gets done. So that is a very, very nice thing to think about school.
Apart from the teachers the students also seem to be quite happy with Maltalingua. What may be a reason for them to come to Maltalingua – some even repeatedly?
Of course, when I ask my students why they come to Malta, most of them say because of the weather. They say well we want to combine learning English with having a holiday in the sun and I can appreciate that. It is always satisfying to come to somewhere nice and sunny where you can indulge in your swimming or outdoor pursuits without getting wet every day.
Maltalingua itself as a school, has a very positive image. Students return to the school on a regular basis. I had a student not so long ago who had been to Maltalingua on six previous occasions – this was his seventh visit to Maltalingua.
So that goes to show when you have students coming back to the school repeatedly, it says something about the school.
Truly the weather is really fantastic in Malta, but what else makes Malta such a wonderful place to stay at and learn English?
I would say Malta is historically-rich: with the wonderful city of Valletta, the beautiful position of Mdina, the wonderful Neolithic temples scattered around the island. There is no doubt that Malta has had a lengthy and rich heritage. Oh, and think about our beautiful Pastizzi! Nowhere have I found pastizzi or the wonderful Maltese bread that I used to hanker for when I was in Saudi Arabia. Another exceptionality is that Malta has a particular type of language. Not many people know Maltese language is a Semitic language. It's a kind of Arabic but unlike Arabic it is written mostly in Latin letters and from left to right. Fortunately, everybody on this island speaks English which makes it so attractive for companies, travellers and those who want to improve their English skills."
Indeed, Malta is a beautiful spot on Earth that has – even though it is small – so much to offer! To come to an end, I would like you to tell me your first thought that comes into your head when hearing:
Students with the best English skills – Germans.
Most motivated students – Russians.
Students with the most loveable accent – French.
Maltese food – Pastizzi and Ftira.
Maltese traffic – horrible and frustrating.
Paceville – not my cup of tea.
Valletta – a wonderful jewel of a city.
As you may have realised Jeremy is a teacher with lots of experience and knowledge. But most of all he is a lovable human which you always appreciate having a talk with. It's an honour to have him in our teachers' team affecting everybody with his enthusiasm and passion.
Thank you, Jeremy! Thank you for all of your commitment, your dedication and your way of inspiring people. Maltalingua congratulates you and is grateful to have such a special person in its ranks.
Stay tuned for our next blog article in which we are going to find out more about the philosophy and ideas our Director of Studies (Michael Porritt) has about teaching.