We are delighted to announce that Maltalingua has been awarded the LanguageBookings Quality School Award 2013.
The award is recognition of the emphasis we place on quality English teaching combined with the pleasant atmosphere of our school and the care and attention we pay to our students as well as our efforts to make learning English affordable. The Quality School Award is given to language schools with high appeal for international students with an unbroken record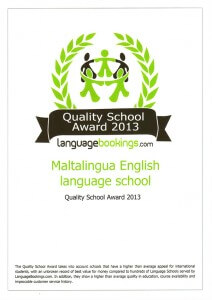 of best value for money and competition was fierce – Maltalingua earned this recognition in comparison to hundreds of schools. The award confirms that Maltalingua has achieved high quality standards in its range of language courses.
Whilst we are thrilled to make this announcement, this recognition does not mean that we will get complacent – here at Maltalingua we constantly strive to make our language courses the best, our students the happiest and our prices extremely competitive and winning this award does not change that.
So what other reasons do you need to learn English with us in Malta? Our award winning language school is waiting to welcome you!!