"Ljubica, thank you for a pleasant, relaxing stay at your place. I enjoyed the dinner conversations even with my terrible English. Thank you! :)"
There is nothing more enjoyable than making the entire learning experience better for a student by being a great host for them.
The positive feedback wasn't a surprise at all for us, but we wanted to hear her side of the story too. We found her after classes, sitting on the rooftop, next to our pool.
Ljubica was happy to talk with us.
How would you describe your experience as a host family?
The smile on her face was the only answer we needed.
"Well, I've only had positive experiences so far. Every student has been extremely polite and understanding, and all of them have been respectful of the apartment and me as a person, and as a teacher. I believe that it can be one of the best experiences a student can have."
The apartment is just a couple of minutes away from Balluta Bay, which is in the heart of St. Julians, close to many five-star restaurants, clubs, and most importantly, our school.
Located in one of the traditionally designed Maltese buildings named Steeple View Mansions, the apartment is on the top floor. It is spacious, classically Maltese, and peaceful, which is quite rare for any apartment in the center of St.Julians, as this part of the island never sleeps.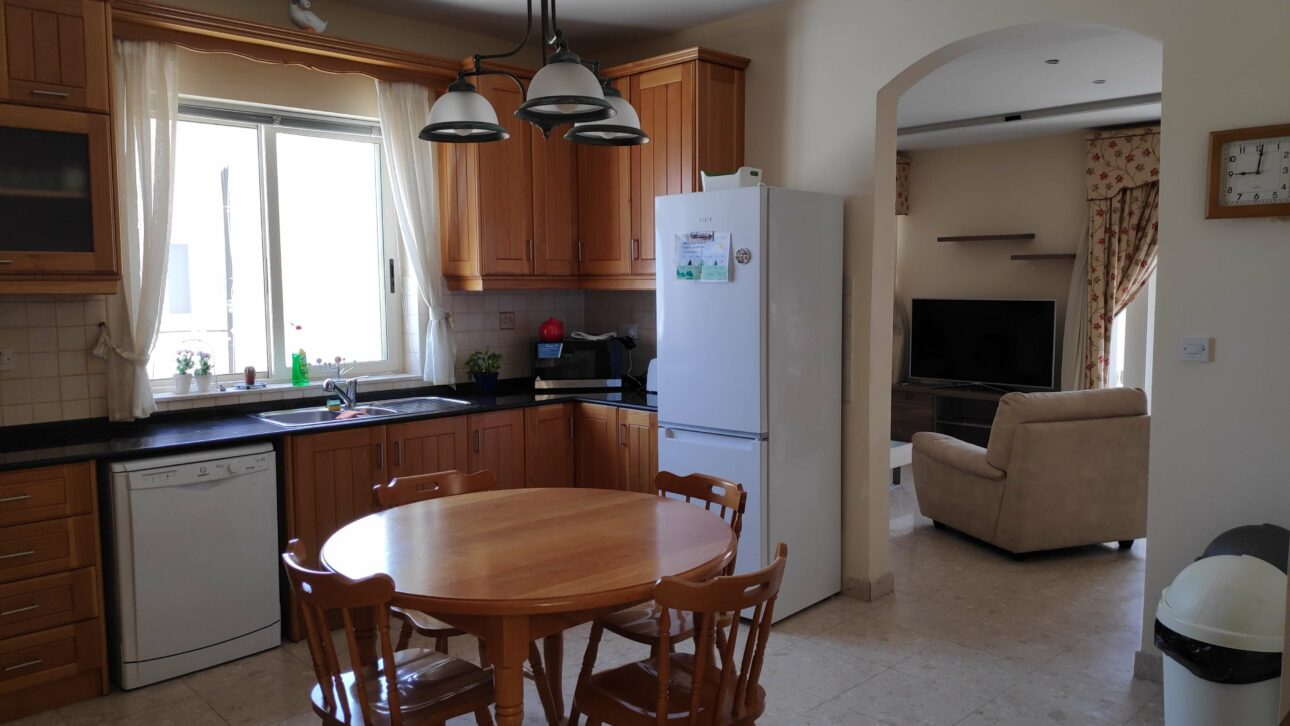 Students are more than welcome to enjoy the comfort of the living room or to prepare a meal for themselves in the bright, well-equipped kitchen.
Most of all, the room where they are staying, together with the bathroom, has all the commodities a student needs to enjoy their stay in the apartment.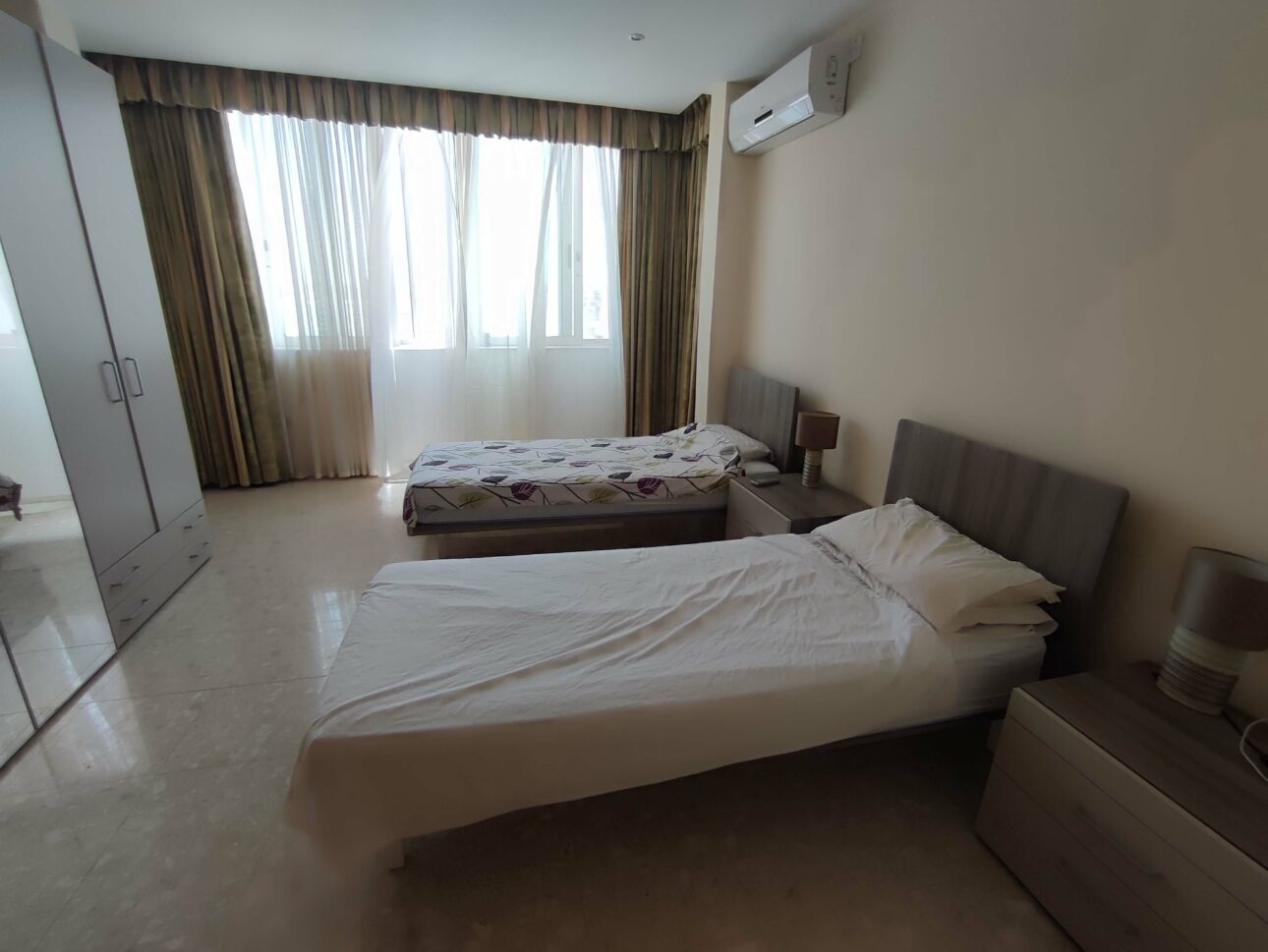 What is the first thing you do when a student arrives in your apartment?
Give them a glass of water, as it's always hot in Malta! 😀 As a good host, I give them time to rest after the flight, make sure that they are okay, and share the Internet password with them if they want to notify a family member that they have safely arrived in the apartment.
After that, it's like a regular Monday morning in the classroom – I try to get to know the students. I explain everything about the apartment, how everything works, and important things about Malta I believe they should know. It's also my responsibility as a host to make sure that they know the location of the school, so once they feel comfortable and have the time, we take a walk to the school so I make sure they know their way from and back to the apartment.
I absolutely love the apartment and I believe that cozy feeling one gets from being inside catches very easily with them, Ljubica says.
You are also responsible for providing the food, right?
Yes, breakfast and dinner are provided by me for all adult students, and lunch for teenagers and children. The breakfast is mostly continental and the students can help themselves. Occasionally, I like to cook something for breakfast over the weekends, as I have more time.
But the dinner is always prepared by me unless we agree otherwise with the students.
I know that all of them are here to enjoy and meet new people, so we always communicate if they have other dinner plans. Food is not to be wasted, so we always make sure are on the same page for it.
What other services do you provide for the students?
Well, I try to accommodate students' needs as much as I can. The apartment and the room where they are staying are cleaned once per week, and that includes changing the sheets and the towels. I also provide water for the students, as tap water is not drinkable in Malta. Also, as it's very common for people to get sick when they arrive in Malta, I always tell the students to take care of their health, but in case anything happens, I always have medicine in the apartment. In general, I try to create the overall experience for the students much more pleasurable, and so far, I think I've been doing a good job 🙂
To summarise, what are the 3 major benefits of staying with you as a host and a teacher?
It's affordable, the apartment is welcoming and warm, and above all, you get to stay with a friendly teacher which in itself, will push you to use the language and practice your English even more.
If I were a student in our school, I would choose this type of accommodation, as it elevates the entire learning experience for any student.
What about you, do you enjoy it?
Of course! Hosting students is much like teaching – if you don't enjoy it, it will drain you. I love being a host, I love preparing food for other people and I know how most students feel when they come to our school, so I want to make the entire process easier and more enjoyable. Plus, it's a pleasurable experience for me too, as I get to meet people from all around the world, listen to their stories, and learn from them, which as this job taught me, is priceless.
We ended the conversation with a cheerful smile, happy that we have achieved our goal – portraying Ljubica's positive experience of hosting students.
You might be next on the list of students who get to stay with her and improve their English.
Discover more about 'Stay with a Teacher' on our main school website.