Share
Fun, sun and confidence in English with Maltalingua's Junior Course
If you're aged between 8-12 or 13-17 and want to extend your summer, have some fun AND learn English, Maltalingua's junior language course is ideal for you! Malta is a beautiful island with an extremely pleasant climate and, due to its location in the Mediterranean Sea, is still warm even in October!
A course at Maltalingua gives you the opportunity to study English with other kids and teenagers in a British owned and run school with an international environment. Class sizes are small and there is great focus on personal, individual attention to the students, both in and out of the classroom. All teachers carry a certification to teach English as a foreign language so the quality of the school and its teaching is extremely high.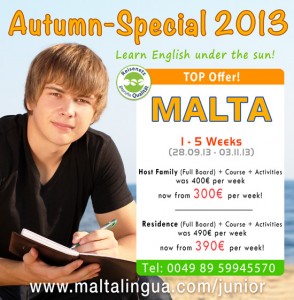 Learning at Maltalingua does not take a break when lessons are over! The ALL (Active Language Learning) method of teaching combines in-class tuition with outdoor active learning so you can 'learn by doing,' gaining experience of real-life situations while fully immersed in an English speaking environment. Maltalingua School of English also offers a comprehensive programme of social, cultural and sporting activities as well as evening entertainment so you can spend your free time making new friends and practising your English! You can also visit the school's new Beach Club which is open all year round (weather permitting), just off Mellieha Bay, the largest beach in Malta, and enjoy lunch and use of the facilities.
As the only language school in Malta which is open during the autumn holidays, this is a great time to benefit from the special offer where you can save up to €100 off the normal cost on an English course (see flyer for details). You can discover more and get an impression of what your stay will be like by watching the video in the link below. We look forward to seeing you soon!
Leave your Comments
Share
Fun, sun and confidence in English with Maltalingua's Junior Course

,