Share
Easter Preparations
Easter is one of the biggest events in the religious and social calendar, celebrated heavily on the Maltese Islands.
It is a time for families and communities to come together and celebrate the Holy week with some delicious traditional food, festivities that include re-enactments and plays, and religious processions. Those who do take part in processions and re-enactments are incredibly proud to do so and it is seen as a great honour.
Preparations for Easter start as early as Ash Wednesday, which is the first day of Lent, 40 days before Easter.
It is a period when believers are encouraged to use this time for reflection, fasting and sacrifice, ending with celebration.
Ash Wednesday is commemorated with a Mass, where the Priest would mark the sign of the cross in Ash on the foreheads of worshippers. This represents grief and mourning for one's sins. Following the Mass, a statue of Christ would then be carried out of the church and around villages across Malta and Gozo.
Prior to the festivities during the Holy week, typically on the Friday before Good Friday it is the feast of the Lady of Sorrows. The main procession takes place in Valletta, but many other smaller villages also have their own. Participants would walk slowly and solemnly behind the Lady of Sorrows, singing hymns and reciting prayers, some worshippers would also walk in heavy chains barefoot as a show of respect.

Holy week
Holy week begins on Palm Sunday, one week before Easter Sunday. Palm leaves are folded into the shape of the cross which are then blessed with holy water along with small olive branches before people would gather in peaceful and faithful processions.
Maundy Thursday is a solemn occasion the night before Good Friday. There are Last Supper re-enactments and exhibitions in multiple localities that are combined with the "Seven visits". Maltese families would gather after Mass and traditionally visit 7 different churches.
Good Friday is a day that comes with great sadness in Malta and Gozo and is seen as a day of mourning. There are no church bells and the mood is very sombre. Across the island there are processions that take place in the afternoon which include many local people who dress up as characters that represent the journey of Christ. Statues are taken out of the Churches, each one depicting a certain stage in the story. Those who take part in the processions vary from the very young to the very old and each one sees it as a real honour and chance to demonstrate their faith.
Celebration
On Easter Sunday, the atmosphere changes completely. It is a day of joy and celebration. Church bells are rung and a special mass is celebrated.
To celebrate the resurrection of Christ there are band marches and a procession with the statue of the Risen Christ. Towards the end of the procession when the statue is being returned to the church, those carrying the statue begin to run, which is quite an entertaining spectacle!
After the procession and celebration, the festivities continue as many families and friends gather together with the feast of a lavish lunch.
During this Easter period, aside from glorious lunches of a similar decadence to that of Christmas Day, it is also a time to feast on all things sweet!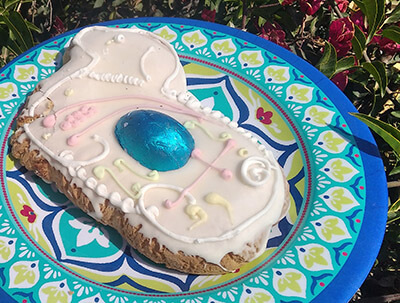 Figolli are by far the most popular sweets and are delicious almond pastry cakes, designed to share (if you feel generous!) that are covered in icing sugar or chocolate and filled with pure almond paste. They often come in the shape of Fish, Lambs and Butterflies and are decorated with royal icing in bright colours, and pretty patterns. Other sweets include Hot Cross buns, which are sweet bread rolls with currents and Kwarezimal, which are chewy, nutty, orange-flower flavoured biscuits.
No matter who you are or what your faith or beliefs are, it's a wonderful experience to be in Malta and Gozo during this Easter period, where you have the first hand opportunity to feel like a local and immerse yourself in a community culture that may be completely different to your own. Embrace the history and religion, theatre and drama and the passion and dedication.
Our team at Maltalingua are here to ensure that during your time with us, you can experience the many cultural and historical charms if you choose to learn English in Malta.
Leave your Comments
Share
Easter Traditions in Malta

,