Paul Atkins, an EFL teacher at Maltalingua has been presented with the "Inspiring ELT Professional of the Year 2022" award at last year's 9th ELT conference.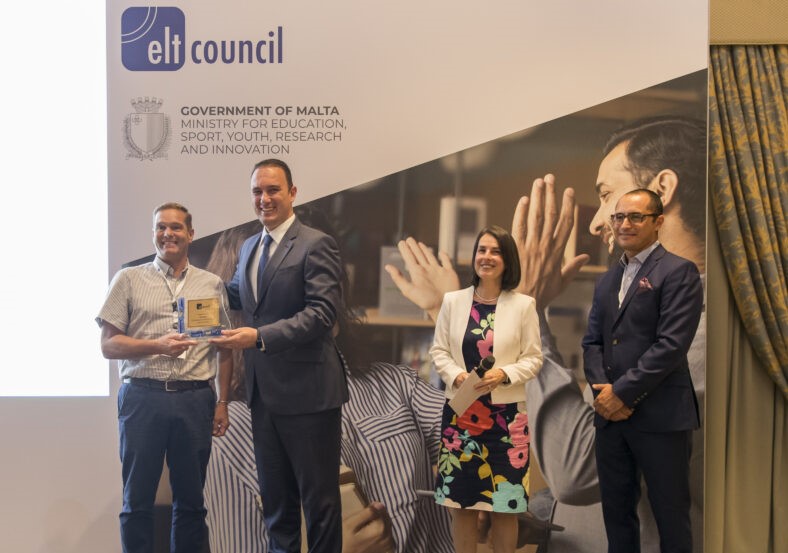 Paul, who is a teacher, teacher trainer, and academic manager for the last 30 years, with DELTA, a first-class B.Sc., and a Master's in Applied Linguistics he has taught thousands of students all over Malta and the UK.
Each year, the ELT Council staff collects nominations for the ELT Professional Awards, which are then thoroughly vetted by a specific working group. The winner is not only chosen based on the number of nominations received, but also on his or her actual merits. Paul was one of 30 nominees.
The award ceremony was held at Xara Lodge, and the award was presented by the Chairman of the ELT council, Dr, Daniel Xerri.
Paul was recognized for his enthusiasm to teach, his passion for the job, fun lesson tactics and his dependability with students and staff alike, as well as his dedication to teaching.
Paul has not only accepted this award graciously, but has dedicated this award and the winnings towards helping a Ukrainian family learn English at Maltalingua. This incredible gesture inspired Maltalingua to offer this opportunity to this family, for free.
This is the most prestigious award an ELT teacher could receive, so, join us in congratulating our own Paul Atkins for this momentous accolade. Here's to many more!