Following on from the success of our Malteser and Pool competition, Maltalingua is again offering you the chance to win a language trip to our school in Malta.
In another chocolate-based competition, we have filled a large jar full of Smarties (19 Liters). We naturally counted every single Smartie (!) and the total number in the jar is a top secret and only known by one person.
To enter the competition simply guess how many Smarties are in the jar and you could be in with a chance of winning a two-week course at Maltalingua including accommodation, airport transfers, participation in three activities per week and course materials. On top of all this, Maltalingua provides its students with a course certificate on completion, free internet access to keep in touch with friends and family and keep on top of your homework(!), student discount card and welcome pack and an invitation to the world-famous (well, maybe not world-famous) welcome party.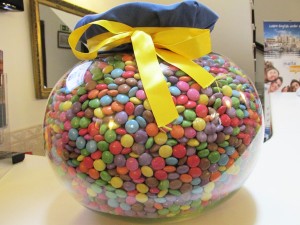 When entering, please let us know either why you think Malta would be a great place to learn English and/or tell us about something you find particularly strange, interesting or funny about the English language – and try to be creative and original!
And don't forget to include your guess on the number of Smarties in the jar. The competition will end when the correct number has been guessed!
Simply click here to take part.
Good luck!