Share
Meet Rupert Swanson
It's a great pleasure to introduce you to Rupert Swanson, our new Academic Manager. Rupert joined Maltalingua in 2021, and has already proven that he is a competent and friendly professional, who has won the hearts of staff and students alike.
Could you introduce yourself?
My name is Rupert Swanson and I come from England. I have 12 years of experience as a teacher and a background in events management as well as operations management.
Why did you choose this profession?
That is a really good question. I didn't start my career as a teacher and I actually never planned to be a teacher. That said I really liked the school environment. The education industry is somewhere I always wanted to be and I feel like my experiences in events and operations has helped me to develop into my management position. So, I feel this is the industry where I belong.
What are the main challenges that you are facing in this position?
I would say dealing with sudden changes. You have to be prepared for anything to happen. It might be a teacher who is sick, or a student who requires support in or outside the classroom, and you have to be ready to deal with that in an professional, efficient and calm way.
What are some of the lessons that you have learned?
One lesson that I've learned is to always have a good backup plan. This could mean that you have a teacher on standby if someone is ill. I always make sure to communicate with the other managers to ensure that the students receive the best education possible and that there is always someone there to support them.
What is so appealing about Malta as a destination to learn English?
Well, let me speak from my own personal experience: I arrived here for a holiday and when I came back from my vacation I said to my wife: "Ok we are moving to Malta." And it really wasn't a difficult decision. We wanted a nice climate, as well as an adventure, and of course the language spoken in Malta was an important factor for us. I think a few of those reasons also apply to the students that are coming. Malta is also a very historical place. So, if you like history like I do, it is a great place to explore. I think combining education with this small island, which has a lot to offer, is very attractive. It is also very affordable when compared to other destinations that teach English!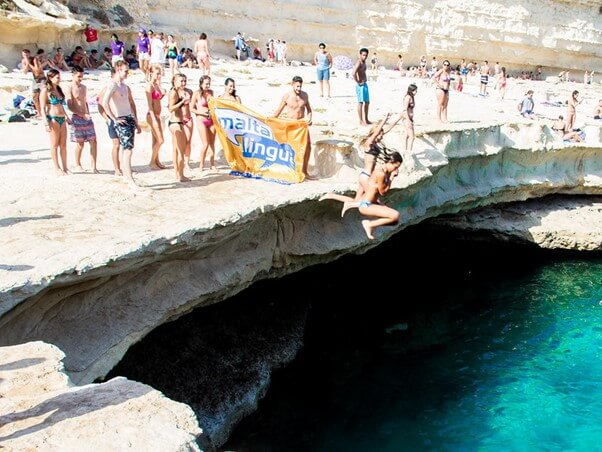 Speaking to future students, why should they choose to study to Maltalingua?
I never liked to compare schools, because every school is unique. What I would say is that Maltalingua is unique in multiple ways to other typical language schools. I have worked at a few different schools in Malta and this school really stands out.
It has a family atmosphere, and I'm not just talking about the pool (smiles and points at the pool next to him). It's like you can really feel at home here. It does look different than a sort of normal school. This is an old boutique villa that has been converted into a school.
I feel like it makes the experience better and the studying easier when you are in a relaxing environment. We really look after our students here and support them through their journey and that goes beyond the classroom. We also offer a leisure program, accommodation and transport from the airport.
The focus is really on the students and every part of their time spent in Malta. We will make sure they are happy and that they are socialising. This is my biggest message to any students coming here. You'll have a once-in-a-lifetime experience when you come to Maltalingua.
How do you ensure that the students are reaching their academic goals?
On average most of our students come here for at least two weeks or more. Some come for much longer periods, for example six months (long term students). It doesn't matter how long a student is studying with us, we will support them, whether it's two weeks or two years! The same focus applies when it comes to their needs. There is a big focus on communication. Every student will get the chance to speak a lot, especially in the intensive classes. We encourage students to speak as much English as possible, not just in class, but also during the activities and in their accommodation.

How much improvement can the students expect?
Communication in English will improve significantly, even if they are only here for a short period of time. A lot of students start knowing very little English and we help them to overcome this. As our focus is on communication, students leave Maltalingua with more confidence in their speaking abilities. We really encourage our students to keep learning when they go home.
We give them methods to continue studying in English. Learning a language does not just finish when you leave your classroom and continues in many ways. In Malta you can do this while joining our leisure activities.
When you go back home you can do this by listening to audio books, watching films in English or reading books. This way you improve your lexis and you gain confidence.
Many of our students keep in touch with each other here in Malta and after they return, so you keep practicing the language. We also have weekly test so every student will have their performance measured while they are here.
At Maltalingua the students really immerse themselves in the language. Would you say that this is one of the most important aspects of learning English?
Absolutely, immersion within the language is really important, especially if a student is just starting. This leads to building vocabulary and having the confidence to use it. There are plenty of opportunities to speak in different situations and scenarios.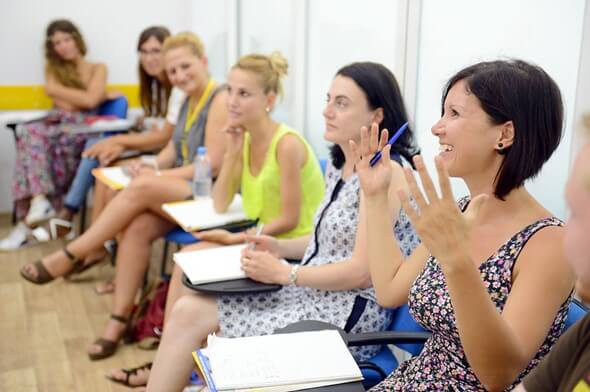 Could you give us a brief overview of the different teaching classes and the teaching methods that are being used?
We offer a variety of different courses which include: A general English course, an intensive English course, a business English course, IELTS exam preparation courses, as well as courses exclusively for people over the age of 30. .
We have our junior program too, which is for ages 8 to 17 and is available 3 times a year. When it comes to our methodology of language acquisition it is most successfully achieved through active communication, participation and interaction in different scenarios.
The coursebook we use, for example, is Outcomes, which is going to give students plenty of scenarios which you can practice in. We do all we can to create the best possible environment in the classroom. Expect to do a lot more talking in class than the teacher!
Now that you've met Rupert online, it is time to get a free and quick quotation so you can meet Rupert, and the rest of the Maltalingua team, in person, "Learn English under the sun" and explore the beautiful island of Malta.
Leave your Comments
Share